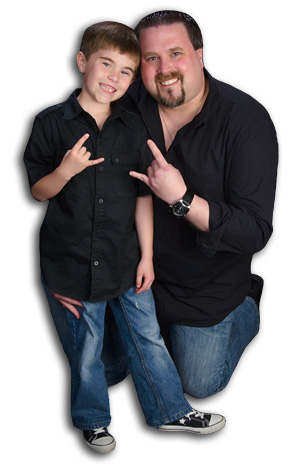 Computers have always been a part of my life. With my father being a retired mainframe and Visual Basic programmer, there were always computers in our home when I was growing up - from the old Radio Shack TRS-80 and Commodore 64 to the custom-built ZX-81. I remember long ago when my Dad asked me what I wanted to be when I grew up and I told him I wanted to be a writer. He asked me if I had any interest in computers and programming. I told him no. But after spending a good majority of my career as a writer for my hometown newspaper, I started dabbling with HTML and a little JavaScript. It wasn't long until I decided I wanted to switch career paths and go into the ever-changing world of Information Technology and programming.
I launched my first Web site in 1995. A tribute to the military service careers of my father and grandfather, my Military Tributes site has undergone a couple of revisions but is still up and running. For several years, I ran a small home-based business, Whaley Computer Consulting, and designed sites for several clients, including Pepsi, Jim Woods Realty & Auction Co., Realtor Ed Entrekin, Region 6 of the Tennessee Pest Control Association, Apache West Apartments and aerial dancer Alicia Schultze, who was a dancer on one of rock and roll legend Mötley Crüe's tours.
In 2001, the Johnson City Press promoted me from staff writer to webmaster. At that time, the Press had hired local contractors to design the newspaper's first Web site. So when I began as webmaster, the first version of the Press' site was nearing completion. For the next couple of years, I helped maintain and design new functionality for the site, which was developed in Microsoft ASP (Active Server Page) and SQL Server 2000 functionality. Shortly after the Johnson City Press was purchased by Sandusky Newspapers in 2002, management decided we were going to redesign the newspaper site with PHP and MySQL. As sole programmer for the Press at the time, I led the redesign of the site using PHP, MySQL, JavaScript, CSS, XML and a little Flash and ActionScript thrown into the mix. In addition to maintaining the site, I developed several XML-driven mini-Flash sites and two Flex rich internet applications for the newspaper's advertiser tearsheets and daily top headlines with videos.
In October 2008, I accepted a programming position with iostudio in Nashville, Tennessee, where I am currently a programmer on a development team that focuses primarily on the Army National Guard's Path to Honor recruitment system. In addition to object-oriented PHP, MySQL and XML, my team utilizes SOAP, Jquery and the Zend Framework within an MVC environment. We also strive for an Agile Software Development atmosphere and conduct daily Scrum meetings.
For the summer of 2010, I redesigned the Pepsi Fireworks site with improved CSS and Jquery functionality. In early 2011, I finished a desktop RIA (Rich Internet Application) for TuneVault developed with Adobe AIR technology and sites for Western Hills Apartments and Al Cloyd's Custom Golf. Be sure to check out my updated portfolio!
When I'm not programming, I enjoy spending time with my incredible and awesome son Jacob, family and friends. I also try to balance time between writing a book on my grandfather's infantry division during World War II and playing guitar.
While you're here, be sure to visit all of my favorite sites via different links in the footer of each section of my new site. You will find them under the Favorites column.
Thank you for stopping by!